Dear Fellow, Sub-Contractors:
NAMC – Greater Houston Chapter finished a very successful year in 2019 for its members in:
Education (12 Lunch & Learns) Legal, Accounting, Safety & Bidding to name a few.
Safety (2 Lunch & Learns) a Safety class of 100 in August 24th.
Presenting Job opportunities to Members with (12 Lunch & Learns, 12 Networking Events, 4 Major 2019 Events (Mid-Winter Construction Conference Feb 22-23) ( 4th Annual Crawfish Boil March 2019) ( 2nd Annual Day of the Constructions Worker Sept 24th at Minute Maid Baseball Park with Astros) (4th Annual Christmas Party Dec. 13th attended by over 150 members).
NAMC membership grew by over 300% In 2018 and 58% in 2019 to make us stronger and increased more bidding opportunities with General Contractors, City, State and Educational bidding projects. We now have 22 Corporate members to introduce you to.
We hope you participated in our Free 2019 opportunities and if not, we invite you to our 2020 events. As a sub-contractor, you can participate in our over 40 events to educate, bring safety and job opportunities to your company this year! Of course, if it makes sense Join us!
Already in February 2020, we have had an extremely successful NAMC Conference & Expo that had 60 exhibitor booths and a 185 seat Luncheon! NAMC has now become the "Premier" place for Small Contractors in the Greater Houston Area. I will send you a video clip of the event with this letter.   (Click here to watch video)
Our Social Media has gone through the roof with 1000+ views in 2020 Jan-Feb on NAMC Pages in … Facebook, Twitter, LinkedIn and Instagram!!
Please call me for any questions or suggestions you may have at Abel R Garcia – NAMC Executive Director: Text 832.797.1842 or email me at director@namctexas.org or execufirm1@yahoo.com.
In  the  current crisis  "NAMC  is  Open for Business."  In a crisis …"  Leader Lead."  At NAMC, we have chosen to Lead!! Please, call us if we can help your company.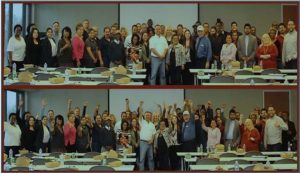 Capacity 72+ at our February Lunch & Learn and usually 80+ (full house at our networking events)!!
We are now holding over 30+ events a year to put our members closer to bid opportunities
Abel R. Garcia
NAMC – Executive Director