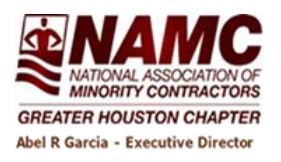 NAMC Greater Houston Chapter is planning the largest and most viewed construction event of 2020!
"NAMC'S Day of the Construction Worker 2020 leading Houston's Recovery!"
NAMC will visit and film a different construction location for 8 – 10 weeks from August 21 to October 14. When the 10-week campaign ends we will close on October 29, 2020 with a huge and extensive virtual Teams platform that may number in the thousands!
We will visit/film each location's lunch space and interview our new heroes, construction workers.
Next, we will ask for a drone film of the location to show its progress. If they don't have a drone or regular construction site video, NAMC will create one.
We will then post the construction event on our extensive social media (thousands of members) in the following 5 days after the site visit.
While many Houstonians are bombarded with negative news, we will show them that Houston is working and coming back with $ Billions in construction as we honor our construction workers!
When our 10-week media campaign ends, we will create a virtual "Day of the Construction Worker 2020″ event. Construction Hall of Fame, Pat Kiley will speak on how construction has always led Houston back to the top after each disaster. Other Houston notables will contribute supportive remarks of encouragement for our workers and Houstonians.
Milton Thibodaux (Mr. Construction) will also join us a one of our supporters and moderator.
At this early date we have Ford Corp., Cadence Bank, MCA Communications, and many others have joined as Major Event Sponsors. We expect a great number to join them in the next few weeks as construction site and major event sponsors!
Event site filming will carry a cost of approximately $1,500 – 3,000 for costs and gifts to our workers on site and be recognized as Gold Sponsors on DOCW October 29th.
Site Visit Sponsors Benefits: (site video to all NAMC social media venues) (Logo on campaign banner to open each video) ( a onetime 20 minute spotlight on our NAMC You Tube and Teams Presentations during this campaign)
We encourage all construction companies to join this 8-10 week of "virtual" appreciation for Day of the Construction Worker 2020!
Please call or text for more information: Abel R Garcia – Exec. Director 832.797.1842.
Join the Construction Event of 2020!
Abel R Garcia
NAMC – Executive Director
832.797.1842 cell
director@namctexas.org
execufirm1@yahoo.com